Having worked with Sue for over a year on several projects I can attest to her reliability, exceptional delivery of facilitated sessions and flexible approach to work. She is very supportive and passionate and is always pursuing excellence, her consistent feedback assisted in the improvement of several aspects of the programmes we worked on together. LE
I have had the pleasure of working with Sue in the past. I love her enthusiasm, especially her role playing where she really gets everyone engaged and brings the case studies to life. (it also demonstrates her great acting abilities!). I also love her analogies which helped individuals pick up and absorb information quicker as there is so much to learn. Sue always makes me feel welcome as an advocate at all her courses and encourages everyone to get involved whilst managing to keep to her schedule for delivering the course.
Sue is an asset to the business, ensuring that the message is delivered, understood and enjoyable at the same time which is a huge credit to her as a trainer. LB
Having worked with Sue in a one-to-one coaching environment, I would certainly recommend her to anyone who is looking for a coach. Her patience and attention to detail opened my eyes to things in my working life I was doing that I can now clearly improve on. Her knowledge of various personal effectiveness techniques such as Assertiveness and Communication Skills has been beneficial and invaluable.
I'd like to thank Sue for her time and patience in our sessions! PA
Working with Sue was a great experience as she was always so helpful and would give advice whenever required, advice that has subsequently proved invaluable in places other than at HSBC. 

Sue is also a very driven individual with a strong desire to produce the best work available and always achieves what she sets out to do. I found Sue never to be stuck for ideas and always articulated well to the team what she was thinking and what could benefit the project overall. OG
I have worked with Sue on a number of occasions and have always found her to be a highly conscientious trainer who always has the needs of her course delegates at heart. She is a first class facilitator who knows when to push hard and when to take a more softer approach, the result is always that her delegates learn something both about themselves and the subject being taught. 


I would highly recommend Sue. MG
I have known Sue for several years. Sue is a very experienced facilitator and puts the client at the heart of everything she does. Her management experience is considerable and her passion for facilitating growth and development with individuals and organisation comes through in her delivery style. Sue has a great sense of humour and is a joy to work with.
I would gladly recommend Sue to anyone one looking for an experienced training manager and delivery specialist and whenever possible I would look to bring her experience into any projects I am involved in. CW
Sue is a highly conscientious and effective facilitator. She creates a positive learning environment and is very supportive to both delegates and colleagues alike.
It is always an absolute pleasure to work with her. JS
Appreciative delegates attending part of their On-Boarding programme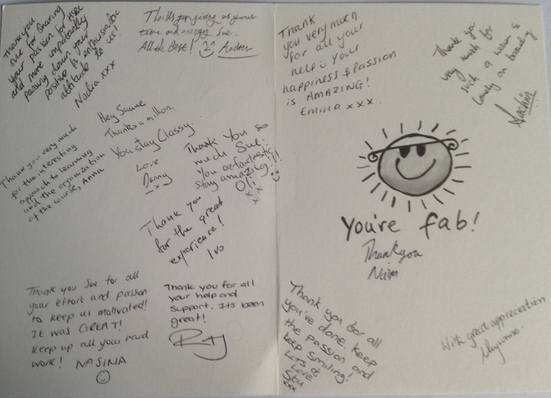 Having worked with Sue on many L&D interventions I can honestly say I have rarely met another who demonstrates such a dedication to the development of her participants.
Her selfless approach coupled with an ability to flex her style to match the experience of the learner makes for an effective facilitator. LW
Sue has been hired as lead trainer for various Stratum Learning Ltd accredited training programmes over the past 18 months. Sue has been a pleasure to work with, never letting us down and achieving positive evaluations from each learner group. AD